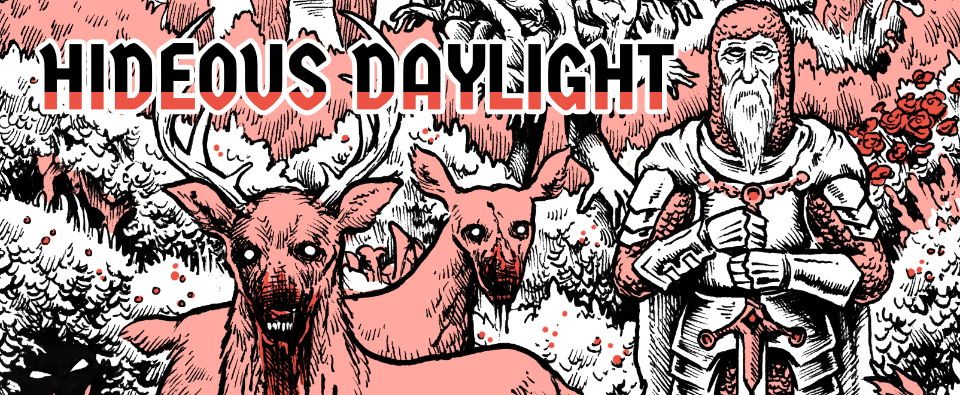 Hideous Daylight
Enter a garden of earthly delights.
The sun has stopped setting over the king's favorite garden. It seemed like a harmless curiosity at first but the animals have turned violent and strange alien beings have appeared. The duke has placed a bounty for enterprising sell-swords to end the curse of endless daylight.
Hideous Daylight is an adventure module for Old-School Essentials and Cairn and compatible with other pen-and-paper RPGs with old-school sensibilities. Player characters will navigate a 20 point hex crawl to end the strange curse affecting the land.
An adventure for low-level characters.
33 pages of non-linear, character driven adventure in the OSR tradition.
Two keyed dungeons and a 20 point hex-crawl.
A bucolic fantasy setting easily insertable into fantasy RPG campaigns.
Dangerous new monsters, weird magic items, and an unpredictable random encounters table.
Features two gazebos.
Includes images and json files for Foundry Virtual Tabletop or other online virtual tabletops (thank you to Yochai Gal).
OSE print-on-demand version is now available through DriveThruRPG.
Offset print copies of Hideous Daylight: Cairn Edition are available at the Cairn Store.

Purchase
In order to download this game you must purchase it at or above the minimum price of $5.99 USD. You will get access to the following files:
hideous-daylight-OLD-SCHOOl-ESSENTIALS.pdf
10 MB
hideous-daylight-CAIRN.pdf
8 MB
Comments
Log in with itch.io to leave a comment.
You should add to "Expanding the Adventure", pg. 27, that Wyvern Songs includes an adventure for area G-20.

Hi Brad.
I've recently bought the Italian version of this adventure, produced by Need Games. I have the Italian PDF, but not VTT files. Is it possible to buy them separately?
Thanks, Simone.
Send an email to swordlordspublishing@ gmail .com and I'll send you the files. Grazie!
Hello, I am in the same situation as Saul, I've emailed you at that address a couple of days ago, but I have received no response yet.
Could I receive a copy of the files too?
Thanks, Shion.